FREE* SHIPPING for all the orders
Baume & Mercier watches
History
- 1830 Their story started with the foundation of a family business. The two brothers, Louis Victor and Celestin Baume first opened their watches shop in Les Bois, a region in the Swiss Jura. Thanks to the launch of their outstanding models and an advanced technology, the Baume Brothers company develops rapidly, acquiring an excellent reputation in the watch sector in a very short time.
The brothers decided then to open a new branch in London, named "Baume Brothers", which will expand rapidly all over the British Empire, from India to Africa and from Australia to New Zeland, until Singapore and Birmania.
At the end of the 19th Century, the company has already acquired a solid international reputation and is becoming an increasingly important player in the watch sector abroad. Thanks to its measuring instruments, the Maison stands out in the most important international exhibitions and fairs organized in Paris, Melbourne, Zurich, Amsterdam, London and Chicago, winning ten Grand Prix and seven Gold medals.
Baume's watches are aesthetically beautiful and technically very complicated, they also demonstrate excellent precision, setting records in time trial competitions and in particular in timekeeping tests conducted by the Kew Observatory near London.
- 1892 Baume wins the last competition with a pocket chronograph watch equipped with a tourbillon movement, the precision of which will remain unbeaten for over ten years.
In the early 1920s, the director of the Maison William Baume, decided to start a partnership with Paul Mercier.
- 1918 in Ginevra the Baume & Mercier collaboration started, becoming soon one of the most dynamic in the wristwatch sector, thanks to the very balanced models and the particular shape they offered.
- 1919 the Maison was awarded the "Poincon de Genève", the most prestigious international recognition of the time, an emblem of craftsmanship and quality.
- 1965 Baume and Mercier launched for the first time, an ultra-flat white gold watch animated by an automatic winding movement with micro-rotor that still constitutes one of the most refined examples made by the Maison.
During the roaring twenties, understanding the importance of the women emancipation, the brand started to consider women and their desires as inexhaustible sources of inspiration. Under a creative impulse, the brand will create several women's watches with an original and modern design, demonstrating that female models are not just a simple miniature version of the male one.
In considering femininity as an important part of its values, Baume & Mercier watches immediately reveals a modern philosophy.
Excited by the arrival of Paul Mercier, the Maison builds a corporate philosophy that is considered actual even today. From this moment on, the watchmaking mastery will be represented by timeless elegance.
An authentic pioneer in this market segment, Baume & Mercier launches the first "shaped" wristwatches, establishing itself as a successful brand in a sector aimed at an audience constantly looking for news.
In the Art Decò era, the Maison affirms its style by leaving a mark on the design of watches, as evidenced by the Hampton collection, inspired by a rectangular-shaped watch launched in the 1940s. This casual and elegant watch features a timeless design that adapts to the special moments of life, permeated with an unparalleled elegance.
Always looking for the perfect balance, the current Baume & Mercier logo, during the 1950s and 1960s, the Maison laid the foundations to define what is now considered the archetype of the traditional round watch. In fact, they launched several chronographs with different functions such as moon phases or triple date window, as well as collections of round-shaped watches characterized by an essential design. These emblematic pieces from the golden age of the 1950s will become a real source of inspiration for the brand. The Capeland, Classima and Clifton collections represent a return to the origins of the Maison.
- 1973 Baume & Mercier proposes once again the Riviera model, one of the very first steel sports watches
- 1988 the company joins the Richemont group, adding new pieces to their collection such as the Hampton and Linea watches, which immediately establish themselves as icons of the brand.
RensiWeb offers one of the largest assortments of Baume & Mercier watches, at very competitive prices, always guaranteeing the origin of the product as official dealers, so we can guarantee customers their maximum safety and 100% reliability. We care about quality control and customer service and we want to offer the best possible shopping experience on our website. We are always available for clients to provide a complete and professional service and it is possible to request the measurement of the strap before shipping, a completely free service. We offer useful services, articles and guides for customers who have doubts or problems, in our Insights for Watches you will find guides and advices as well as many explanations and clarifications.
Current collections proposed by Baume and Mercier watches:
Baume & Mercier watches offers five collections in its catalog, designed to offer the public the best quality:
- Clifton: casual watches, made to meet the needs of those who want a (???)
- Classima: for lovers of minimalist and elegant design.
- Promises: casual and elegant round-shaped women's watch.
- Hampton: made of men's and women's watches, with a shaped case.
- Line: collection of elegant round-shaped watches, aimed exclusively at women.
Clifton Baume & Mercier collection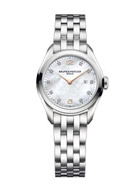 The Baume & Mercier Clifton watch collection was first created for men looking for a clearly recognizable male style watch.
The 43 mm version with full calendar features a steel case and an alligator leather strap. The Clifton models, clearly recognizable for their characteristic double beveled case, underline the constant search for excellence and the deep attachment to the beliefs ​​of the brand.
The Clifton watch collection establishes itself as a refined line consisting of models with a strong character and sober aesthetics, as well as more articulated ones such as the moon phases. The 41 mm steel version is freely inspired by the models worn in the city by "white-collar workers" in the 1950s.
Animated by a mechanical movement with automatic winding visible through the sapphire crystal case-back, the Clifton models present hours, minutes, date and small seconds at 6 o'clock.
Clifton Dual Time watch becomes a natural choice. With a 43mm case. in Stainless Steel, this model is distinguished by an appealing aesthetic that mixes classic lines, a real timeless style. To animate it, an automatic winding movement known for its precision and resistance.
Today the Baume and Mercier Clifton watch collection is divided into 3 groups:
- Clifton collection: the origin of the Clifton watches collection, which includes versions for men and women in different movement and aesthetic variations. Versions available in different case diameters: 30, 39, 43 mm.
The indicative price range of this collection vary from € 2,100.00 to € 13,500.00.
- Clifton Baumatic collection: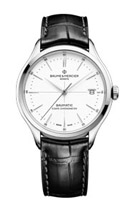 New series of Baume and Mercier watches, offered in men's and unisex sizes only. They have a new generation movement called caliber BM12-1975, which has included important technological innovations, allowing a better precision, reliability,
durability and autonomy.
Some models of this collection are also offered with COSC certification, which will be extended in the future. This certification officially guarantees with a certificate the high reliability and precision of the product.
The indicative prices of this collection vary from € 2,600.00 to € 3,300.00.
- Clifton Club collection:
Series of Baume and Mercier watches with an aesthetic and sporty spirit, also presented with dedicated versions and combined with historic brands such as "Shelby Cobra", "Indian Motorcicle Company", of both normal production and limited series.
The indicative prices of this collection vary from € 1,250.00 to approximately € 4,100.00.
Classima Baume & Mercier collection
Inspired by the historic Classima collection, a thin watch made in the late 1960s. Extremely essential model, the case combines straight lugs with a Silver dial, focusing on a minimalist and refined design.
This essential character is further accentuated by Roman numbers and subtle indexes which appear in the quandrants with absolute refinement. The most amazing thing of this series of watches is a mechanical movement with automatic winding or quartz made in Switzerland, versions available with leather or steel strap.
Note the version with Swiss Made quartz movement, with an extraordinary compactness with a thickness of only 5-6 mm.
Price range of this collection varys from € 990.00 to approximately € 5,500.00.
Promises Collection Baume & Mercier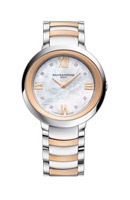 Modern collection of watches round shaped with diameters of 30 and 34.5 mm, with a casual and elegant design, created exclusively for women. This collection of women's watches features a special case design with a bezel that climbs towards the glass. This watch collection features Steel and Steel-Gold versions with anti-reflective Sapphire glass, also versions embellished with Diamonds and Mother of Pearl dials.
- Petite Promesse collection: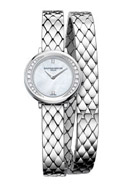 A particularly feminine variant, with a 22mm case and double-turn leather or steel straps, which wrap around the wrist, creating a watch-bracelet effect that brings it closer to the likeness of a jewel. Also in this case we find variants with Mother of pearl and Diamonds dial.
Price range of this collection varys from € 1,990.00 to € 6,850.00.
Hampton Baume & Mercier collection
With the original rectangular shape inspired by the design of the 1940s watches, the Baume and Mercier Hampton watch models abandon conventional aesthetics with an irresistible appeal. Often imitated by many, but never successfully, this architectural form cleverly combines tense features and soft curves revealing its timeless character day after day.
Characterized by a shape that evokes an elegant and relaxed dimension, the Hampton watch has spanned generations, maintaining its innate modernity over time. The collection includes men's steel models, available with steel strap or leather strap with buckle or triple folding clasp, these timepieces host a mechanical movement with automatic winding or quartz.
Proposed on steel strap or leather and satin leather strap. Singular timepiece with a multifaceted character, the Hampton model for women is transformed into a jewel watch whose rectangular shapes, taken directly from the original model, are embellished with brilliant cut Diamonds.
The silver or natural mother-of-pearl dial with Arabic numerals gives these models an authentic expression of timeless elegance, a touch of refined preciousness.
The "indicative" prices of this collection vary from € 1,450.00 to € 4,000.00.
Baume & Mercier Line Collection
Today's woman watch creations are the result of a reinterpretation of past models according to the aesthetic taste and current trends. In keeping with this creative approach, the Linea watch collection is inspired by a model from the historical Baume & Mercier collection. The Arabic numerals engraved on the bezel, the common thread of the contemporary collection, recall the iconic model of the 1950s.
Created in 1987, thanks to its interchangeable bracelets, Linea quickly established itself as a collection of jewelery watches with character, sober and sophisticated, simple and complex at the same time. Launched at the time in a quartz version, this fascinating watch capable of crossing time without ever going out of fashion is now available in an automatic version and is available in steel variants with diamonds and mother of pearl or in steel and red gold.
Linea offers precious jewel-watches that can be worn daily thanks to the essential lines that mix timeless femininity and elegance. Produced with case sizes from 27 and 32 mm, both versions are animated by a Swiss quartz caliber or by a mechanical movement with automatic winding. The ingenious system of interchangeable straps gives women exactly what they want: the ability to customize their watch according to their wishes and clothing.
Indicative prices of this collection vary from € 1,650.00 to € 2,750.00.